Adoption Deception: Know Who You Are Working With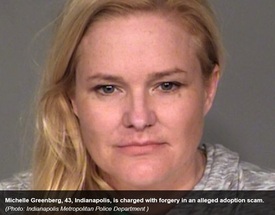 Adoption Deception: Michelle Greenberg was recently arrested in Indianapolis on charges relating to committing adoption fraud. The Affidavit for Probable Cause filed by the Indiana State Police alleges that Greenberg, working on behalf of Attorney Mark Reder-Yera, claimed to have had an expectant mother interested in making an adoption plan with prospective adoptive parents. According Affidavit of Probable Cause, the prospective adoptive parents paid $13,000, which included money to Greenberg. The prospective adoptive parents were later told the "birth mother" changed her mind and decided to parent the child. As it turns out, there probably never was expectant mother or baby for the family, at least that is how it appears from the Indiana State Police affidavit.
If all of these allegations are true, it represents the worst in adoption: vulnerable, prospective adoptive parents were led to believe that a baby was finally on the way – only to later learn that the baby probably never existed. Adoption scams cost prospective adoptive parents not only money but emotional distress, which I am certain, most would say is worse than losing the money.
There is no way to entirely prevent adoption scams or adoption deception, but by working with an ethical, experienced adoption professional, the risks can be minimized. Adoption Attorneys Kirsh & Kirsh do not pay "finder's fees". Nearly 2/3 of our referrals of expectant mothers come to us because of our 30 years of experience and the outstanding reputation we have worked hard to earn. We have had "expectant mothers" take advantage of us and our clients, but we always use our judgment and expertise in trying to discern who are the expectant mothers truly in need and who are the scammers. We are not perfect, by any means, but we are always mindful of what is at stake for prospective adoptive parents not just in terms of money.
To find out more about adoption attorneys Kirsh & Kirsh, P.C. please visit www.IndianaAdoption.com
---
HOW DO YOU THINK THIS SITUATION SHOULD BE DEALT WITH?  REGARDLESS OF WHETHER THESE ALLEGATIONS ARE TRUE, WHAT SHOULD BE DONE IN THE FUTURE TO PREVENT SITUATIONS LIKE THESE FROM HAPPENING?