Is Adoption Second-Best to a Real Family?
By: Elizabeth Kirk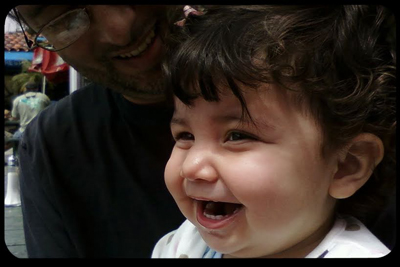 "You are so generous!" "Those children are so blessed!" "What a wonderful thing you've done!" These are some compliments my husband and I receive upon sharing that we adopted our three children. While we always attempt a gracious smile, inside we cringe and feel uncomfortable. We are congratulated on our generosity, yet we feel only gratitude. Our sense of overwhelming gratitude reflects that it is natural to think of adoption as a unilateral gift. Adoptive parents receive an infinitely precious gift – the gift of a child. Yet, there is truth in the recognition that they also give something. During this National Adoption Month, it is timely to reflect on the institution of adoption and what it can help all of us to understand about the nature of the family.
Pope St. John Paul II, in his characteristic sensitivity to the complex richness of the human experience, described adoption in this way inan address to adoptive families: "to adopt is a great work of love. When it is done, much is given, but much is also received. It is a true exchange of gifts." There is much to contemplate here. But let's ask: what do adoptive parents give? Of course, at the individual, concrete level, they give a home, support and love to a child. Also, depending on the circumstances giving rise to the adoption, adoptive parents can be sources of hope to birthparents. For some birthmothers, the encounter with adoptive parents who truly love and support her can be a healing experience when she may feel abandoned, judged or marginalized by others. In a metaphorical sense, the example of adoptive families is a gift to those interested in understanding and promoting the family because adoption manifests various realities of parenthood, putting these realities into high relief for all to see. In other words, adoption is a sign of the family.
Last week, the Vatican hosted an international, interreligious colloquium on "The Complementarity of Man and Woman," which featured the premiere of six short films focusing on different aspects of marriage and family life. The second video entitled, "The Cradle of Life and Love: A Mother and Father for the World's Children," includes a vignette of a young man adopted at birth from Vietnam by a French couple. He explains that adoption allows "a child, an orphan who doesn't have a mother or a father to put a face on these words, 'Daddy' or 'Mommy.' An orphan child without parents is a child deprived from its roots… and it is very important to give some new roots in a new family that becomes theirs. It is a very peculiar thing because we just transplant someone to a genealogical tree that is not theirs to start with but that eventually becomes it. I become a son, with a name, a story, with ancestors, with parents, with brothers and sisters."
The young man's testimony makes an important point that while an adoption typically arises in the context of fractured relationships or some brokenness like death, addiction or poverty, it is not merely a "second best" alternative to a "real" family. Adoption of a child by a husband and wife – which assures the child of a mother and a father – creates a family. In Pope Francis' opening address to the Humanum colloquium, he stated, "The family is the foundation of co-existence and a remedy against social fragmentation. Children have a right to grow up in a family with a father and a mother capable of creating a suitable environment for the child's development and emotional maturity." Through the unique circumstances of their creation, adoptive families which provide this environment – knitted together only by love – are emblematic of the family itself.
Adoptive families remind us that all children are gifts. Parenthood is a blessing, not a right. All children are gifts, and adoption captures this reality in a distinct way – there is no literal act of biological co-creation of the child. Rather, the child received is pure gift, a unique creation of God, whom God through the birthparents has placed in one's care for the time being. When adoptive parents receive the gift of a child, it disabuses all parents of the notion that a child is something to which one is entitled to "make," "have," or "own."
Adoption emphasizes that parenthood is a vocation. As Pope St. John Paul II said in Familiaris Consortio about infertility: "[it] can be for spouses the occasion for other important services to the life of the human person, for example, adoption, various forms of educational work, and assistance to other families and to poor or handicapped children." That is, adoption is a particular calling (perhaps out of the circumstance of infertility, perhaps not) and not a second-best way of building a family. This reminds us that parenthood is not simply a natural consequence of biology, but rather the occasion for all fathers and mothers to serve God through the children entrusted to them.
Adoption emphasizes that parenthood is not limited to the biological conception and delivery of a child. Adoptive parents exercise their parenthood in an authentic way despite the fact that they do not conceive and carry the child, and indeed, may not have the opportunity to welcome the child into their home until the child is much older. Participation in God's creative love continues beyond birth to raising children and providing for their moral and spiritual development. Pope St. John Paul II expressed this idea in Familiaris Consortio when he stated, "The fruitfulness of conjugal love is not restricted solely to the procreation of children, even understood in its specifically human dimension. It is enlarged and enriched by all those fruits of moral, spiritual and supernatural life which the father and mother are called to hand on to their children, and through the children to the church and to the world." And, in this way, adoption reminds us that all parents must remain attentive to their continued duties toward their children throughout their period of formation.
Adoption reminds us that parenthood is sacrificial. Here one thinks of the difficult decision and the painful grief associated with the case of living parents who choose adoption for their child. Let us focus for a moment on the mother. Pope St. John Paul II says "much is given," but, for the mother who chooses adoption for her child, all is given. To place a child for adoption is likened to the death of a child. But far from being a selfish or heartless choice, adoption is a sacrificial loving act of motherhood. The mother who chooses adoption does not abandon her child. Rather, she first gives her child life, in an age in which to choose this is a heroic virtue. Second, she gives her child the gift of parents – of a family – something perhaps that she cannot, for whatever reason, give to the child. By actively choosing the good for her child – over and above her own natural desires and needs – she gives a powerful example of selfless love. And in this way, her choice for adoption is emblematic of the self-sacrificial nature that all parenthood requires. It is important to say here that adoptive parents must honor this sacrifice and never objectify the birthparents as means to a child. A child is never adopted at the expense of the birthparents, but always in service to them and for the child. Adoptive parents must be attentive to adoption's profound potential for the expression of empathy and love to the birthparents – at every stage of the adoption process and thereafter.
Adoptive parents remind us that all husbands and wives are called to be open to life. Like being open to life in a natural way in one's marriage, adopting a child is a way of being open and fruitful in marriage. Ultimately, all married persons are called to be radically open to God's will and to the way in which He intends the marriage to bear fruit. When adoption occurs in the context of infertility, relinquishing the natural desire to conceive (and the understandable, yet still disordered, desire to control that process through IVF or some other illicit means) requires an act of generosity and faith in God's loving Providence. In his address to adoptive families, Pope St. John Paul II stated, "Adopting children, regarding and treating them as one's own children, means recognizing that the relationship between parents and children is not measured only by genetic standards. Procreative love is first and foremost a gift of self. There is a form of 'procreation' which occurs through acceptance, concern and devotion. The resulting relationship is so intimate and enduring that it is in no way inferior to one based on a biological connection." Adoption, which creates a family and renders the marriage fruitful, is one way to demonstrate the trust and generous love required of all married couples.
Finally, adoption reminds all of us about our common humanity and the nature of our salvation. The microcosm of our family and our interrelatedness provides ample ground for spiritual reflection for all of us about our relationship to one another and to God. Adopting a child who is not "related" to you involves a profound kind of solidarity, of recognition that we are all one human family. The young man featured in the Humanum video was brought from Vietnam to join children of other nationalities and with special needs to become part of one family. In my family, God in His Providence brought five people, unrelated by blood, from all corners of these United States together to form a family. We were brought together – not by happenstance to be acquaintances, friends, or colleagues – but to share the intimate bonds of husband, wife, mother, father, son, daughter, brother, and sister. Moreover, in Christianity, adoption is the very means by which we are brought into a filial relationship with God. Spiritual or supernatural adoption is the idea that we are not saved by virtue of our birth, but rather by our re-birth in baptism whereby we are adopted and thereby made sons & daughters of God. Like the human, legal institution, supernatural adoption is not based on nature, but rather is a gratuitous act of God, based on love.
On a supernatural level, each member of the human family stands in need of God's paternal care and love, and through our adoption into His family, we can call him by that most intimate of terms, "Abba." On a human level, adoption by a married couple gives a child the love of a mother and a father – "Mommy" and "Daddy." Adoption provides roots from which the child may grow and flourish – thereby serving as a sign to all families.
Elizabeth Kirk, J.D., is a Resident Fellow in Cultural & Legal Studies at the Stein Center for Social Research at Ave Maria University and former Associate Director of the Notre Dame Center for Ethics & Culture. She lives in Ave Maria, Florida with her husband and three children.