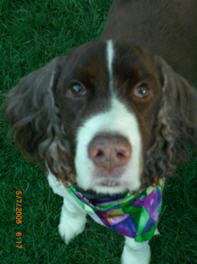 My dog, Bert, died yesterday. Those of you, who know me well, know how much Bert meant to me. My kids, particularly, Josh, who works with me, would just shrug every time I brought up Bert in seemingly irrelevant conversations, followed by "Would you like to see his picture?" Before the person had a chance to respond, I had my cell phone out showing them a picture of Bert on his way to the Beach. Josh always felt compelled to apologize for the "old" guy.
In our line of work, we deal with other people's feelings of loss on a daily basis – birth mothers who sign consents to adoption, prospective adoptive parents, who learn that the expectant mother with whom they were working decided to parent the child, and those nervous couples who meet with us for the first time after having struggled with the monumental disappointments of unsuccessful infertility procedures and failed pregnancies.
Words rarely provide comfort. Loss is part of life. I have been very fortunate in my life. I have a wonderful wife, whom I affectionately call "Most", and great kids. Over the years, my kids have written letters and notes to me, expressing their feelings. My son, Grant, sent the following yesterday afternoon, after hearing of Bert's passing. Sometimes words do provide comfort.
Mom & Dad,
I don't even know what to say. I just spoke to Mom for a few minutes. Bert was amazing, thoughtful and very loving. I remember when we picked him up out in the country one weekend. The first place we took him was one of Tyler's soccer games. You, mom and I sat on a blanket and played with him (maybe even more than we watched Tyler play soccer). Tyler would run over to the side lines to look at Bert during the game. He was so small and so cute (I am referring to Bert, not Tyler… although Tyler was also very small and cute at the time). It is very impressive and not at all surprising that he was able to retain that cuteness through all of these years (…again referring to Bert) .
Bert lived life to the fullest by anyone's standards. He ran, he played, he joked around, he performed, he sang at the top of his lungs, his paws smelled like a fresh cut lawn, he was compassionate and caring and he was always there to share all of this with anyone that needed some lightness in their day. Bert was, by anyone's (human or pet) standards, a model citizen & friend.
He will be missed dearly. He has moved on to a place in the universe where bodies don't ache, where swimming is fun again, where a dog can eat as much chocolate Gelt as they want without having to have emergency surgery to remove the tinfoil from their stomach, where there is always a delivery man to bark at and where the beaches are endless and don't have dog restrictions through the summer months.
Bert, we love you and thank you for being such a good friend to us through all of these years.
Grant