How Do I Put My Baby Up for Adoption?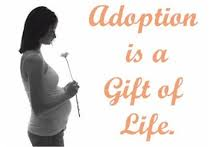 To "put my baby up for adoption" means first and foremost, you love your baby. Women do not "give up my baby for adoption" and frankly they do not "put my baby up for adoption." What they do is love their baby and want for their baby a life they know, at this moment in time, they are not able to provide to their baby.
There are many reasons to consider adoption; You may not be ready to parent or you may not have the financial resources needed to raise a child. Whatever your reason is for considering adoption, you must understand that you are not "giving up my baby for adoption." What you are doing is making sure that baby has all of the opportunities in the world to live the best life possible.
Whether you are a pregnant teen (teen pregnancy) or a woman going through an unplanned pregnancy, if you feel you cannot provide for your baby the life you know your baby deserves maybe you should consider making an adoption plan. It is never too take to do this. We are here 24 hours a day, 7 days a week to answer your questions. There is no cost or commitment to you and we will never pressure you in any way. We are the only attorneys in Indiana that limit our practice to adoption and we have been doing it the longest here in Indiana.
Call us today to talk 800-333-5736 and view families waiting to adopt on our website at www.IndianaAdoption.com.
https://twitter.com/kirshandkirsh
https://www.facebook.com/KirshandKirsh